Free Family Friendly Temple Tours at Kadampa Buddhist World Peace Temple in Sullivan County Catskills NY 2023
Enjoy a meaningful, family-friendly activity. Free guided temple tours. Stroll 82 acres of natural woodlands, including easy walking trails, a pond, garden, stream and soft springy moss. Allow mental business to ease and create space for a feeling of calm and stillness to arise in the mind. Families & pets on a leash welcome.
---
Please help us keep this calendar up to date! If this activity is sold out, canceled, or otherwise needs alteration, email mindy@kidsoutandabout.com so we can update it immediately. If you have a question about the activity itself, please contact the organization administrator listed below.
---
Take a Free Tour of the World Peace Buddhist Temple at Kadampa Meditation Center New York this Friday, Saturday, Sunday and Monday. The Temple is one of five Kadampa Temples around the world. The Temple's unique design is based on the celestial palace of Heruka, the Buddha of Compassion. The design also represents all the stages of the spiritual path.
Just seeing it reminds us that we have the potential to improve our human nature and qualities through developing the capacity of our mind.
Stroll around the Kadampa Buddhist World Peace Temple. Buddhists believe that walking around a Temple that houses a statue of Buddha brings great good fortune. It is called 'circumambulating' and is usually done in a clockwise direction.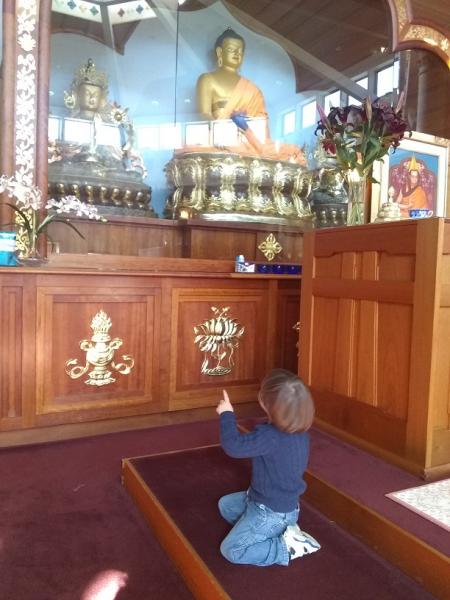 TEMPLE GROUNDS AND HIKING NATURE TRAILS are also open free DAILY from 9:00 A M - Dusk at Kadampa Meditation Center New York World Peace Temple in Sullivan County Catskills Upstate NY.
82 acres include tranquil spots to sit and contemplate in nature, photo-worthy views of the World Peace Temple, and short nature trails in the woodlands. Enjoy walking on the grounds, including nature trails, a pond, garden, streams and soft springy moss. Outdoor seating areas, picnic tables and hidden nature benches.
Buddhist Bookstore & Gift Shop, World Peace Cafe Coffee shop are open.
Kids, families & pets on a leash welcome!
For more information call 845-856-9000 or visit www.KadampaNewYork.org
Open Hours subject to change. Please check our online calendar.
If you are looking for unique things to do in upstate NY or hidden places in upstate New York, Kadampa Meditation Center World Peace Buddhist Temple is one! Located at 47 Sweeney Road, Glen Spey, NY 12737, just 4 miles from Hawk's Nest Highway - iconic New York State 97 - Upper Delaware Scenic Byway. This is an amazing free upstate New York destination attraction in all seasons Spring, Summer, Fall and Winter.
Free online Meditation and Buddhism Books and Resources:
1) Buddhist Podcasts Free - No subscription, No signup.
2) Free Online Meditation Audio - Learn how to meditate. Includes guided meditation for beginners. No subscription, No signup.
3) Free Meditation Book "How to Transform Your Life" and Modern Buddhism eBook download. No subscription, No signup.
Best Guided Meditations youtube - How to Meditate and Introduction to Buddhist Meditation youtube videos includes: Guided Meditations for Beginners, Meditation on Karma, Meditations on Overcoming Anger and more.
---
*Times, dates, and prices of any activity posted to our calendars are subject to change. Please be sure to click through directly to the organization's website to verify.
---
Location:
47 Sweeney Rd Off of Sullivan County Route 31, just 4 miles from iconic Hawk's Nest Highway
Glen Spey
,
NY
,
12737
United States
Ages
All Ages
Adults & kids together